ATC-Guide Belay/Rappel Device
$42.99
The most versatile belay/rappel device, the Black Diamond ATC-Guide is now 10% lighter and features improved handling in guide mode. With an oversized anchor-hole, the device now feeds rope and allows you to pull rope more easily. Multipurpose belay/Rappel device with guide mode – suits 8-11mm ropes
Compare
SKU:
AP3204
Category:
Climbing
GTIN:

793661402152
The most versatile belay/rappel device, the Black Diamond ATC-Guide is now 10% lighter and features improved handling in guide mode. With an oversized anchor-hole, the device now feeds rope and allows you to pull rope more easily. Multiple friction modes provide the optimal amount of stopping power when lowering or rappelling, and the device's guide mode lets you belay one or two seconding climbers off an anchor.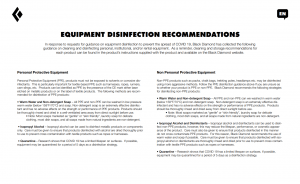 Buy this ATC-Guide Belay/Rappel Device from us. Our vision is for everyone to prepare them for the next emergency or natural disaster that may come our way. Australian Preparedness loves it when everyone feels comfortable spending more time in the great outdoors – practicing those all-important survival skills.
We believe in honesty, integrity, and hard work. Our store ensures very tight security protecting your information to make the best shopping experience for you. We welcome you to reach out to us for any queries you might have, and we'll do our best for you!